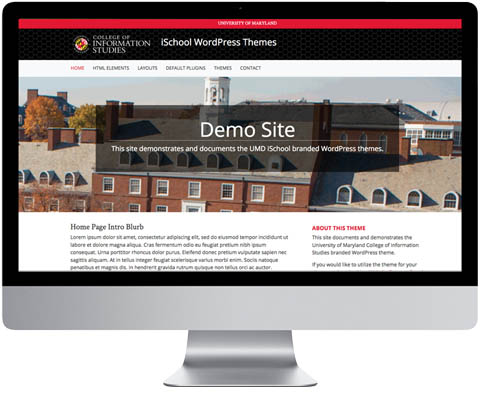 The iSchool and the Division of IT provide a variety of web hosting options each developed to meet specific needs.
Research Project Site Hosting
The iSchool currently supports hosting for research project sites in both WordPress and Drupal environments.
WordPress
The iSchool provides standard themes for all College of Information Studies WordPress sites for a consistent look and feel. For WordPress sites, the iSchool has an internally operated hosting environment residing on AWS.
Drupal
Drupal sites are hosted by the UMD Division of IT, and the iSchool IT support staff can facilitate your access to this environment.
---
New Website Request Form
Please complete the following form to request a new website
For additional information about web hosting services, please send requests to ischooltechsupport@umd.edu.
---
Website Resources
Accessibility
WordPress Training
Web Graphics
Terp Connect
The University of Maryland College of Information Studies is dedicated to establishing an online environment that is accessible to everyone, including individuals with disabilities.
If you have need for a simple custom web page to host your professional profile at UMD, TerpConnect is a great place to start. TerpConnect is a service provided by the Division of IT and additional information about hosting here can be found at
www.terpconnect.umd.edu
.